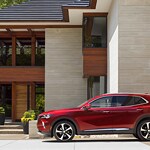 The all-new Buick Envision Avenir is the perfect car for anyone who wants style and performance in one package. This vehicle was designed with luxury and comfort in mind, but it also delivers when it comes to power and handling. If you're looking for a car that will make you feel proud to be behind the wheel, the Envision Avenir is definitely worth considering.

- Engine: The Envision Avenir is powered by a turbocharged four-cylinder engine that delivers an impressive 250 horsepower and 260 lb-ft of torque. This engine is mated to a nine-speed automatic transmission, which helps to provide smooth and responsive acceleration.

- Suspension: The suspension system in the Envision Avenir has been tuned for sporty handling, so you can enjoy a more engaging driving experience. The car also features adaptive dampers that help to improve comfort and ride quality.

- Brakes: The Envision Avenir is equipped with four-wheel disc brakes that provide excellent stopping power. The car also has an electronic parking brake, which makes it easy to keep the vehicle stationary on inclines.