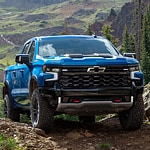 The 2022 Chevrolet Silverado 1500 is a truck to watch out for. This Silverado doesn't just have a durable body, it includes various features that takes its capabilities to the next level. Today we're highlighting some of the top features that makes this truck worth the investment.
2022 Chevy Silverado: Transform Your Drive

?The new Chevy Silverado is all about the off-road experience. Drivers will appreciate features like Multimatic DSSV Dampers, front and rear locking differentials, and an off-road front cuff bumper.
The Chevy Silverado also provides a top-of-the-line trailering experience. This Silverado has a maximum trailering capacity of 13, 300lbs. Drivers will also appreciate a maximum available payload of 2,270 pounds and 460 pounds of maximum available torque.
The 2022 Silverado 1500 doesn't disappoint when it comes to its engines either. The Bison Edition offers an incredible 6.2L V8 engine with a 10-speed automatic transmission. This empowers drivers to take on any terrain.